In a previous article we talked about the blacks furniture for the bedroom, but today we will see together how to furnish the sleeping areas with the purest color there is, the White.
The color of peace, relaxation and purity, adaptable to any decor, from classical to minimalist, from modern to contemporary is perfect to decorate and furnish your bedroom.
Start with the choice of color for the walls. You can just paint them all white for a look Total White, minimalist and cool, or choose a very light shade of greige or a dove, which go well with any type of furniture. People who like to gamble instead recommend colors such as Blue intense, the Purple or Black just to the wall where it will support the head.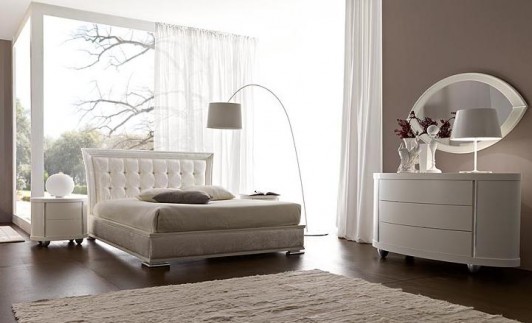 We continue with the purchase of the most important piece, the bed. Choose it in white painted wood or wrought iron with the head of the round shapes, wardrobe, chest of drawers and bedside tables are also of the same style and whites will perfect the room making it radiant and even larger. if you like white but don't want to give up color too, I suggest you add some colored paintings or poster and personalized objects.
Before you buy, I advise you to read this ULTIMATE FURNITURE BUYING GUIDE ,it will help you buy without making mistakes!
Do not underestimate the lighting. In the bedroom light ideal would be hot, recreating a 'friendly atmosphere'.
If you are decorating a Small room, favorite of the ceiling or chandelier ceiling while for those who have space available, can complement the decor with the floor lamps with dimmer for different times of the day.
Good Decor!
Anoma J